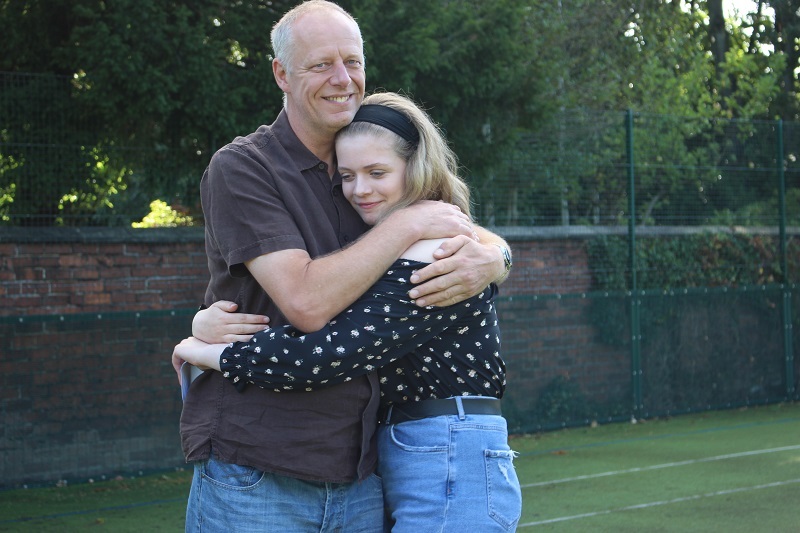 The future is bright for Westfield's Year 11 girls.
GCSE Results 2020
Headmaster, Mr Neil Walker says
'We were absolutely delighted to welcome our Y11 girls back to school today to collect their GCSE results. It was lovely to congratulate everyone in person and see the smiles, hugs and tears with their family members. I am immensely proud of their achievements and of the staff who have nurtured and supported them through the whole course but particularly the last few months. I'd like to highlight how well the girls have adapted to the challenging circumstances over the last few months, they have developed hugely as individuals and it is worth noting how most of them have stepped up to new challenges during lockdown; volunteering at care homes, crocheting masks to donate to NHS and helping at local facilities are just a few examples of how our girls have been making a positive difference in the community.'
Safia Simpson was first in school today and has achieved 11 GCSEs grade 8-9 and will be studying Maths, Biology and Chemistry.
'I was so nervous, I've been up since 5am so I just wanted to come into school, I am over the moon with my results and I am looking forward to starting Sixth Form. I kept busy during lockdown by doing all the remote learning but in addition to that, I've been writing letters to residents at a care home, I spoke to them over the phone as well but, I've really enjoyed writing to them'
Sophie Dryden has been at Westfield since Year 7 and has achieved 10 GCSEs at grades 7-9 and will be going on to study Food Science, Biology and English Literature.
'I am so happy with my results, I was really worried and I was up pretty much every couple of hours last night so I am relieved and pleased, I wasn't in school at the beginning of the year as I had to have surgery but the teachers have really supported me. I am excited to start my A Levels, I did all the A Level bridging work during lockdown and it really helped get my mind geared up, especially for Biology.'
Rebecca Miller-Wallace has been volunteering quite a bit during lockdown, delivering food packages, writing letters and serving Sunday dinners to residents at Horizons North East - a charity that provides accommodation to vulnerable adults in Blyth.
'I am thrilled with my results and I can't wait to start Business Studies, Psychology and Textiles at A Level'
Estelle Anderson is from Holy Island and has been spending a lot of her time furthering her burgeoning stand-up comedy career 'online' as well as a lot of photography.
'I am so happy with my results, especially French as I was really worried about that subject'
Emily Browning has achieved 10 GCSEs grades 7-9 and will be studying up Geography, Economics and Physics. 'I've kept busy by completing an online course; also, now that charity shops have re-opened, I have been volunteering as a door supervisor at The Salvation Army shop in Morpeth.'
Emily and Estelle both took advantage of an amazing Round Square summer school, coming together virtually with fellow students from across the world to follow a 'Global Studies' course, including research and discussion on topics such as international aid, the networked information economy and responses to the pandemic. Emily said "I found it really interesting and it was great to interact with people from different countries."
50% of our grades were awarded 7-9 which is such an amazing achievement given the non-selective nature of Westfield. All the girls can now finally put a closure on this 'strange period of school life' and start to prepare for life in the Sixth Form and beyond.
Today is a special day for our Year 11 girls but the statistics don't truly represent the individual and personal successes of each girl; our remote learning and communication strategy during lockdown has been outstanding at keeping our girls focused and ready for the next stage of their academic journey. The school is busy making preparations for the start of term in 2 weeks-time, fine tuning and adjusting the school dynamics to adhere to the ever changing Government regulations but everyone is looking forward to welcome all the girls back and we'd just like to send a message to everyone 'School is ready for you'!