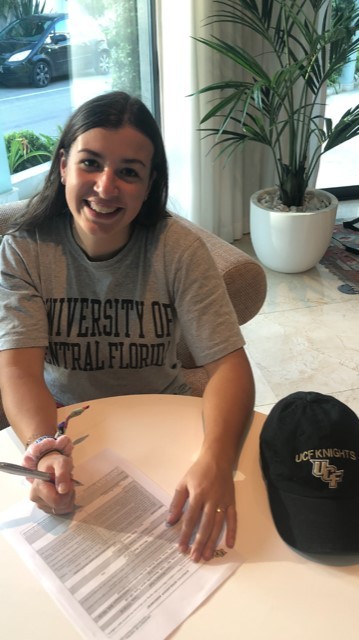 National Signing Day
Jess B U6 (Y13) smiles as she signs the official papers to commit her to her award of a golf scholarship at the University of Central Florida (UCF) in Orlando.
Jess has been accepted to study on a golf scholarship where she plans to major in Psychology.
Jess says, 'The facilities at UCF are absolutely amazing. I'll have access to numerous courses and be able to compete in tournaments across America as well as get the best possible support so that I can also gain my degree.'
'I hope to pursue a career in golf but I want to make sure I also continue with my studies to keep all my options open. I'm so excited to have this amazing opportunity.'
Jess B– age 17
England Girls' Golf Squad 2018-2019, current handicap -3.1
Golf Club – Gosforth Park Ladies Golf Club – for full list of achievements see
https://www.englandgolf.org/player/jessica-baker/
Jess signed her official papers in Quinta do Lago in Portugal where she is competing in The Justin Rose Daily Telegraph Junior Golf Masters Tournament.
https://www.telegraph.co.uk/junior-golf/girls-finalists-2019/