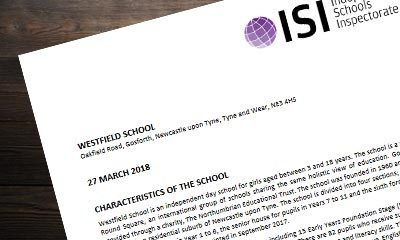 Dear all,
I was very pleased to be able to send the below note to all parents today to accompany the attached monitoring visit report from ISI.
"Dear Parents,
I am very pleased to attach a copy of the ISI follow up report after last October's visit. As is normal, the inspectors wanted to ensure that we have been working towards their recommendations and I am very pleased to tell you that we are fully compliant with all the regulations, including the areas that they had concerns about in the autumn.
This was a much shorter visit than last time, less than a day, and so the attached report is briefer. There is no grading this time, it is simply a case of meeting, or not, each of the statutory requirements. As you read the report you will see the level of detail the inspectors go into. The report will also be published on the school website.
At the end of their visit, having given us a clean bill of health, the inspectors were very complementary about Westfield as a school.
I'd like to take this opportunity to thank all the staff, governors and parents for their support in making Westfield such a wonderful school."
In addition, the Board of Governors are pleased to advise that the latest audited accounts (1/9/2016 to 31/8/2017) have received an 'unqualified report' from the Auditors Stokoe Rodger LLP. (This means that they are confident that the school is a going concern for the next financial year.) The accounts indicate an improved operational performance compared to the previous financial year. This improved performance is forecast to improve further for the current year and further still in the next financial year (1/9/2018 to 31/8/2019). In view of this the Board of Governors has agreed to award a 1% pay rise to all teaching and non-teaching staff for the upcoming year (1/9/2018 to 31/8/2019).
I'd like to thank you all for your hard work over this current academic year and your whole hearted support and enthusiasm for Westfield. We're an amazing school full of amazing people – let's spread the word and share it with as many people as we can!
Best wishes
Neil
Downloadable Items