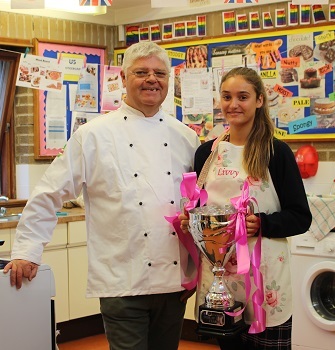 Cook of the Year 2018
What an absolutely amazing morning!.
The whole school have been supporting our chef competitors for the eagerly awaited 'Cook of the Year' competition. All the staff and pupils have been dipping in and out of the Westfield kitchen, tasting and smelling all the wonderful dishes.
Thank you so much to Chris Hume, Head Chef at Mercure Newcastle George Washington for coming to judge and share advice, tips and tricks. (your tips on scones and seasoning will definitely be taken up)
The girls were absolutely amazing. This year's theme was based on #WW1Centenary and a lot of thought went in to each main course and pudding (e.g. ingredient selection, technique and delivery)
Overall winner goes to Livvy Congerton who made a Crown Prince Pumpkin and Chestnut Soup with Poppy croutons and for pudding – Apple and Blackberry Pie
Runner up goes to Tara Davison who made an afternoon tea consisting of handmade items ranging from scones, lemon drizzle and quiche.
The standard of cooking from this group was fantastic, special mention goes to Eva, as the youngest competitor she worked really well under pressure and delivered a delicious hotpot and apple charlotte.