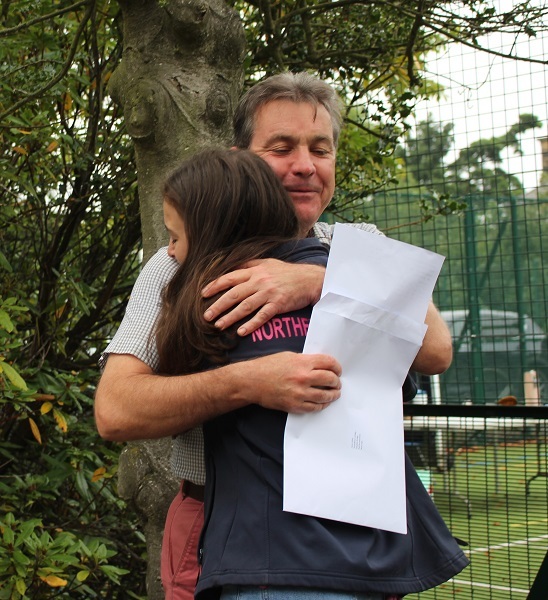 With the release of this year's A Level results, our Upper Sixth pupils are celebrating an impressive new record with almost half of the grades at A*- A, and an amazing 90% at C and above.
Mr Walker, Headmaster says:
'I am so proud of our girls who have achieved these outstanding results and indeed of the staff who have supported and nurtured them. Some of these girls have been at our school since nursery age and it goes to show how our teaching style, focusing on both academic success and student welfare, brings such positive outcomes.
The cancellation of the 2020 examinations was a huge blow to staff and pupils but everyone has shown such dedication and resolve, staying focused and continuing their teaching and learning. In fact, our lockdown learning and the achievements of the girls throughout the school have been truly inspiring.'
Alongside the excellent 100% pass rate, over a quarter of our girls achieved all A*-A grades, which is such an amazing achievement given the non-selective nature of Westfield. It is a demonstration of how well we know our girls' performance and potential as individuals that all centre grades submitted were exactly in line with the final award. This contrasts with 40% of the grades nationally which had to be adjusted, proving that, as a small school, the staff are able to give more focus to each individual pupil and fully provide them with the skills to achieve.
It has been a difficult time coming out of the pandemic but these outstanding results are a significant and important step forward for our girls.
Where are our girls headed?
Head Girl, Aoife, secured her place to study Medicine and has achieved 3 A*s in Biology, Chemistry and Maths. She said:
'I am so thrilled with my results! I've been at Westfield since Year 7 and I really can't thank the teachers enough; being in a small class meant that I could really focus on my work and all the extra support has been absolutely fabulous'
Athina has achieved 2A*s and 1A and is heading to Durham University to study Physics. Athina is also a member of the GB sailing squad and has competed at high level regattas around the world:
'I'm so excited to go and study Physics. I remember arriving at Westfield from Greece; all the teachers supported me from day 1 especially with my sailing commitments; actually it's because of Dr Corbin that my love for Physics started.'
Jane has been at Westfield since Year 5 and has achieved 2 A*s and an A (Geography, Psychology and PE) and is heading to Exeter to study Psychology.
'I literally can't speak. I was so nervous this morning! Westfield has been like my family for 7 years; both my sisters came here and my mum teaches here. All the teachers here supported me every step of the way and I can't thank them enough'
Megan has achieved an A and 2B's and is heading to Newcastle University to study German and History.
'I am absolutely over the moon with my results. I started Westfield in Year 9, so not that long ago really, but when I arrived it just felt so right. The small class sizes meant that the teachers really got to know me as an individual. I am really going to miss everyone but I am really looking forward to going to University'
All of our girls have secured their first choice of destinations for next year and were invited to come into school to receive their results today, outside on the astroturf. Their teachers were also present to congratulate them at a social distance. Results day is a very important day for the girls and we wanted to make sure that we could actually see them in person, congratulate them and bid them farewell as they set off on their journey beyond Westfield School. The school is so proud of this group of girls and we look forward to hearing from them in the years to come.